As an expat in Saudi Arabia, it is important to be aware of the validity of your IQAMA (residence permit) at all times.  For many things, like getting a driver's license, opening a bank account, or even renewing your passport, you need a valid IQAMA.
IQAMA, also known as Residence Permit, is a mandatory document for expatriates residing in Saudi Arabia. It shows who a person is and where they live, so they can legally live and work in the country.
This guide will show you step by step how to check when your IQAMA will expire and if it is still valid.
Check IQAMA Expiry Date and Validity: A Guide for KSA Expats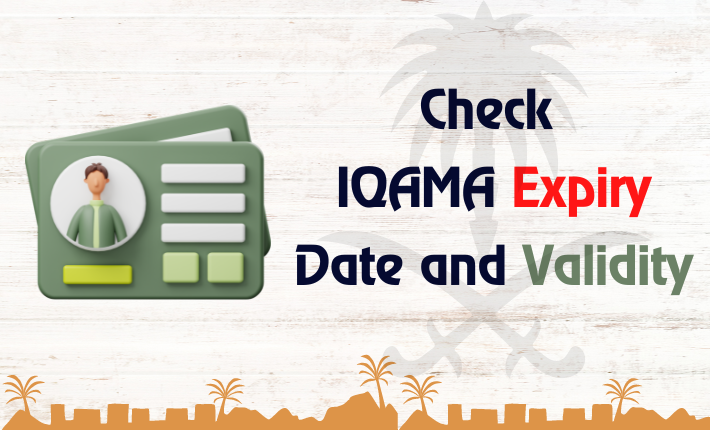 Step 1: Obtain Your IQAMA Number
To check when your IQAMA will expire and if it is still valid, you must first find your IQAMA number. This number is usually written on the front of your IQAMA card and has ten or twelve digits.
This document will have all the important details, like your name, your nationality, your job, and the date it will expire. If you don't have a hard copy of your IQAMA, your sponsor or employer can give you one.
Step 2: Visit the MOI Website

The easiest way to find out when your IQAMA will expire is to use the General Directorate of Passports (Jawazat) online portal in Saudi Arabia. The official place to check if your IQAMA is still valid is on the Ministry of Interior (MOI) website, moi.gov.sa. You need to make an account to use this service.
Check out the Jawazat website at https://www.moi.gov.sa/.
Click on "Electronic Services" and then "Inquiry Services."
On the next page, click "Inquiry About Residence Permit" and put your IQAMA number in the field.
Send in the form, and the system will tell you when your IQAMA will expire.
After making an account, you can log in and go to the "Services" section. Click "Residence Inquiry" after clicking "Inquiry." Enter your IQAMA number and the image code, and then click "Inquire."
Check Through MOI App
The MOI (Ministry of Interior) app is another easy way to find out when your IQAMA will expire. You can get the app in both the Apple App Store and the Google Play Store. After you've put the app on your phone, do these things:
Open the app and choose "Inquiry Services" from the menu.
Choose "Ask About Residence Permit" from the list of available services.
Enter your IQAMA number and any other information that is asked for.
The app will show you when your IQAMA will expire
Step 4: Check through the Employer or Sponsor

If you can't check the expiration date of your IQAMA online, you can also ask your sponsor or employer. They can look at your IQAMA information and tell you when it will expire.
Step 3: Review Your Information
On the next page, your name, nationality, and the date that your IQAMA will expire will be shown. It will also tell you if your IQAMA is still good or if it has been revoked.
Step 4: Take Action
If your IQAMA is about to expire, you should start the renewal process as soon as possible so that your daily life doesn't get interrupted. If your IQAMA has been cancelled, you should talk to the right people to find out why and what you need to do to fix the problem.
It's a good idea to check the status of your IQAMA often, because the length of time it's good for can change without warning.
Conclusion
In conclusion, checking your IQAMA's expiration date and making sure it is still valid is easy and can be done through the MOI website. By checking the status of your IQAMA on a regular basis, you can make sure you are following the rules in Saudi Arabia and keep your daily life from getting in the way.